"PAWS"ITIVE VIBES ONLY
ONCE BITTEN TWICE SHY, BABE.
Yes, you've guessed it. This fall animal print has a super strong presence and we couldn't be more excited! When it comes to prints, we are much more drawn to animal (in this case, reptile) than floral or other variations. @wearcommando gets the gold medal for their python prints! The new snake in such warm golden tones makes slithering into fall less painful. And because we are such fans of layering as well as showing alternative styles and wearability - we paired a Majestic buttondown with it. This knocks down the impact so you just get a spicy slice.
STYLE ADVICE: WEAR BLACK & WHITE
This black and white silk top from @majesticfilaturesusa paired with blue jeans is effortlessly edgy and chic. If I could give only one piece of style advice for the rest of my life, it would be to wear black and white. Always stylish, always timeless. So wearing this top with with waxed black dehim takes it to the next level. A monochrome level, to boot! #styleadvice
RED WRAP TOP
This deep crimson blouse is so striking and special, it needs no introduction. But, it does deserve the recognition it was created to obtain by the creative genius Karolina Zmarlak. Here we are in a heart-stopping luxury plisse fabric with such a beautiful drape. You'll adore styling it for a variety of occasions. This is the ultimate in sophisticated elegance.
YOUR MOOD CHANGES. SO DOES THIS TOP
It's no longer necessary to commit to one style when you're getting dressed with LIBERTE items! Many things can effect your mood throughout the day and this top is right there with you, along for the journey. We love providing pieces that offer convertibility, reversibility and wearability. Tie it in the front for a look that's more dressy and elevated, but leave it untied for that luxury satin tee style. Oh, and it's mauve, so it also comes with extra lovability!
WHEN IS A TURTLE MORE THAN JUST A TURTLE?
When it has an asymmetrical hem, for starters! Plus, this is Majestic - so you know we're talking about the ultimate in luxury tee shirts. Coverup and Carry on, bella.
TECHNICALLY THE BEST
Technical fabrics are technically the best. We can't get over how ultra cool this fabric is and how the fit and design combines to create a total stunner. Don't mind me, I'll just be over here looking my best. #forgettherest
ONCE A CHEETAH/ALWAYS A CHEETAH
Before I wore cheetah, I just worked the solids game. Now I proudly proclaim animal print is my neutral! You want a pop of color, and a level up from basic? Well, this kitty cat inspired blouse is totes extra! Pair it with grey denim, black pencil skirts, or leather …. anything. #leatheranything #leathereverything
YOU'VE NEVER KNOWN A CHEETAH LIKE THIS
If being covered in red cheetah print is a little too loud for you, I recommend this Air Jacket by Karolina Zmarlak. Named the Air Jacket because of the featherweight technical fabric, there is virtually zero added bulk. So you can layer without getting weighed down. I love how you can tie it in the back and get that flirty little pleated hourglass shape! Not to mention, the jacket covers occasions from casual to formal. #bestideaever
IVORY RIGHT BACK
Stark summer white gently transitions into warm ivory this time of year. We feel more comfortable in the creamier version of this non-color and the textured cotton cashmere moto is the perfect addition to your fall wardrobe! Still not too heavy, it's a great fall piece here in Oklahoma.
CAUTION : MAY CAUSE OBSESSION
You want a top that's cool and interesting. You want it to be bad ass without trying too hard. You want something other than solids, but you're not comfortable in prints. The answer is this white leather accented ivory peplum top from Karolina Zmarlak! Style it up with pencil skirt or slacks, or down with denim as shown for a weekend look.
AS PLAYFUL AS A KITTEN WITH A BALL OF YARN
True story: when I was a teenager I wanted to get a tattoo of a kitten playing with a ball of yarn. The image of how delighted that kitten is just makes me happy all the way to my heart. Seems like a random story, but it's relevant because this top brings me the same joy! The look of the lux fabric, the feel of it across my collarbone, the flattering feminine cut, the convertibility- oh the convertibility! There are so many options for wearing this pretty baby. Choose based on your mood. Feeling sexy? rock the cutout. Want to feel like a princess? get those ruffles going on in the back. Had too much Mexican at lunch and want to hide that burrito baby? wear it vest style and tie the belt to hide extra, unwanted curves.
OFFICE THIS AND OFFICE THAT
WHY BE BASIC WHEN YOU COULD BE EXTRA?
THAT TURTLE GOT REALLY CHUNKY
Sometimes described as "dolman" but recently being tagged as "batwing" the slouchy tops are really really having a moment. They come across as uber chic - and I haven't seen a woman yet who can't pull it off. Big or small, they look great on all!
GOOD GIRLS GO TO HEAVEN/BAD GIRLS GO EVERYWHERE
Hey, I didn't come up with that one. That was Meatloaf, so if you don't like it, take it up with him… or them… or it. Whatever. Truth is, Majestic goes everywhere! From "desk to dinner" in a New York Minute! This top traveled to Times Square where the red shimmer competed with the all the action - and yet, look where the spotlight still lands?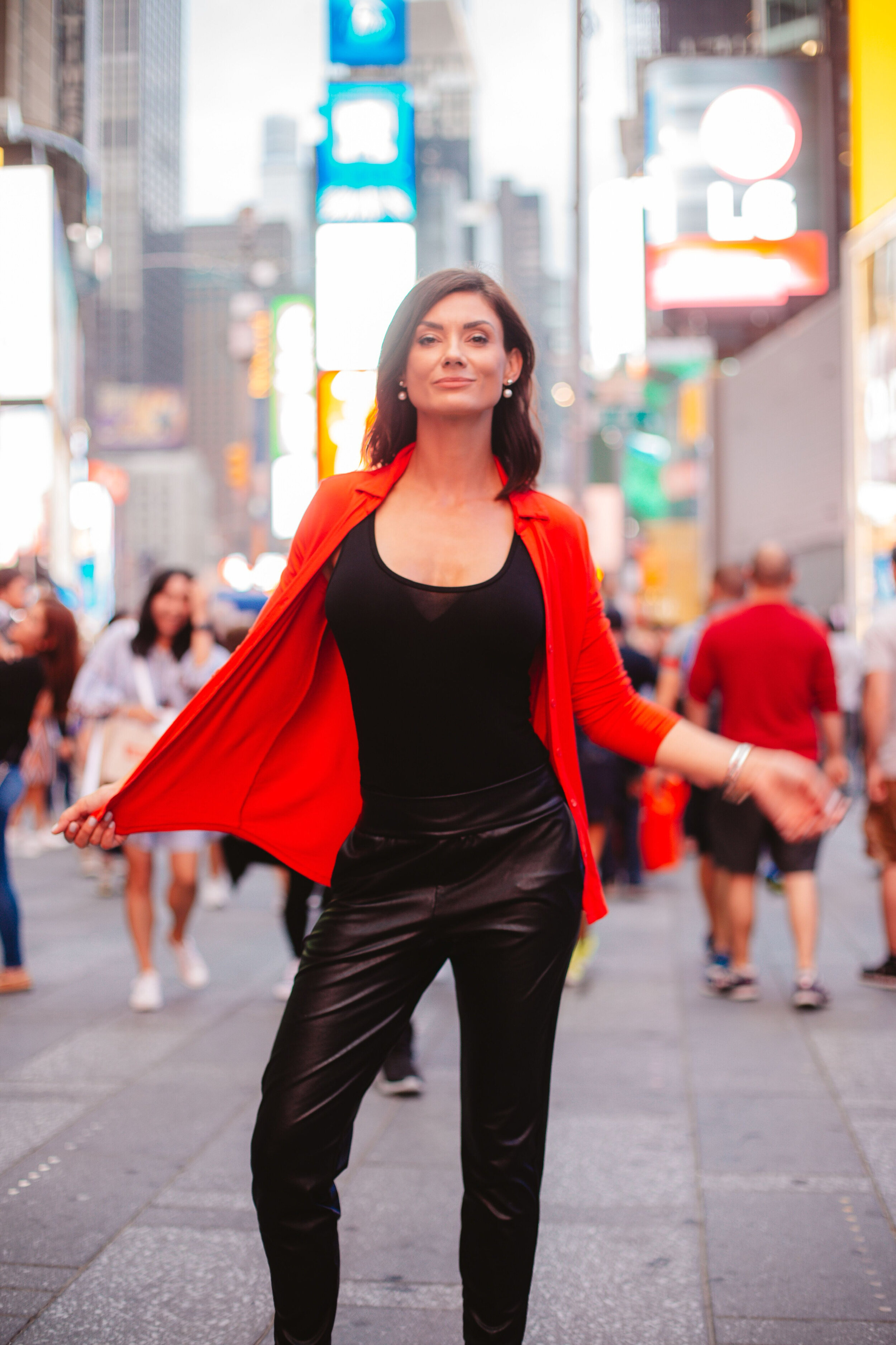 RUBY RED
And just as precious, too! You can sparkle like a gem in Majestic's shimmer v neck. The red is bright, bold, and sparks joy. This is an opportunity to replace boring old red vneck with one that provides sparkle!
WAKE UP TO THE SOUND OF - GETTIN SHIT DONE
You're busy. I get it. I'm busy, too. We're all super busy. That's why we have to keep things simple, prioritize, and get shit done. Excuse the language. Let's not overcomplicate what we can keep sleek and stylish. Designer wrap top in beautiful black plisse, suits a busy lifestyle for a woman who holds her personal style to a high standard.
ANIMAL LOVERS WELCOME
Follow your heart this fall! If you love animals, you'll fit right in here at LIBERTE. We have a strong collection of animal print right now - enough to satisfy even the craziest cat lady in town. Starting with the tonal leopard bomber pictured here - which easily styles with just about anything - we stayed in our wheelhouse here and went black and white. It's not the same as the purring version, but it's pretty snuggly, regardless.
EXECUTIVE LEVEL
I never really thought I'd recommend climbing a ladder in a skirt, but since' I'm referring to the corporate one, I think you'll forgive me! Stretch crepe lined in silk charmeuse, with godets on the size that unzip for a flare at the hem if you so desire! Yes, this pairs perfectly with the KZ Moody Mauve top, but we styled it here with black, because black and pink is among one of our favorite color combos!
THE NEXT BLACK TOP YOU NEED
This versatile sleeveless black top goes anywhere and everywhere with you! It's crafted from crepe satin, so make it that special black top that you wear out to dress up your denim, or layer it with a jacket to create office worthy style. It has a few styling options, I'm sure you're not surprised- as most KZ items have some sort of convertibility. This one has fun ties that we had fun playing with. This is one that you'll enjoy getting our recommendations on all the ways you can wear it!
BREAK UP WITH YOUR OLD CARDIGAN
It happens, you've grown apart. The list can be long and complicated, but there's no use going into details, it only results in hurt feelings. The best thing to do is break it off quickly and cleanly. My advice for getting over an old flame is with a new spark - this cozy cardi from KZ will help you move on because it does things your old cardi could never do. It's fully reversible so you can turn it inside out for two different textures. Several snaps are tucked all around to give you options so you can wrap yourself however you want. This sweater says I'm a new woman and I'm not looking back!