Reset for Spring
Spring cleaning or embracing the Kon Mari Method or whatever you want to call it, the end goal is the same: making your life easier, for the life you want to live. And at LIBERTÉ we love to create new looks for you to mix, match and work with your other items in the closet - so you can add just one piece or all the pieces (it's completely up to you!). Let us help you build a wardrobe you love!
WHITE BALANCE
Did you know, choosing a color and running with it top to bottom, like we did here in white, makes you look taller!? Then add a blazer - this will visually drop lbs and have a slimming effect. We are all about nudging these little tips and tricks at you, so you'll always feel super confident that you're looking your absolute best!
BEGIN AGAIN
Classically cool, confidently chic. Blazers aren't just for business anymore. You can rock the #bossbabe look outside of the office, too! Our new #favoriteblazer is the Alanna Blazer by Nora Gardner. It comes with a tailored fit right off the rack that looks more amazing than its oh-so-boring predecessor.
TAKE IT FROM THE TOP
There's no limit to where you can wear this! Karolina Zmarlak considered every detail of this perfectly tailored Arc top: from the architectural exterior shape to the silky interior that makes you feel engulfed in luxury. And with such a stunning and versatile piece like this, that means less time trying to figure out what to wear!!
RESISTANCE IS FUTILE
Our clients have great taste. They gravitate toward the exceptional, the incredible, really. They have the skills to hone in on the very best in fashion. Even the fabrics at first sight call out for you to touch them and then, once you do - they transform you. Suddenly, you find yourself infatuated by the idea of owning these pieces. You need them, you want them and once you have them you find yourself just wanting more. #sorrynotsorry
WINNER TAKES ALL
The sleek combination of neutrals and white is one of our top choices when a stylish look is the main goal. Surely to come off as chic and on-point, going colorless is the right move. Look at most of Karolina's pieces and you find that timeless color palette that never veers too far off black and white. Her cinch jacket not only pulls in at the waist, as the name implies but also makes looking totes fabulous a cinch!
WOW THAT REALLY SUITS YOU
Join the better business wear movement. Nora Gardner makes our favorite suit! You get a structured yet feminine blazer in lightweight wrinkle-resistant stretch crepe that looks incredible with it's matte finish. Powerful, confident, fully functional - you'll make a great impression and still be able to run the whole sho. You'll feel like you can move mountains!
CIRCLE OF TRUST
Nora Gardner workwear has steadily made it's way into our "Circle of Trust". Dependable for her high quality and reliable for flattering fits, we know she's brining her A Game! The faux wrap top is so much more practical for women than the original. We all know the benefits of a wrap, how flattering the cinch is, but they're not always what you might call "conservative". Nora, being from the financial world, knows this and has thoughtfully applied her knowledge to keeping us covered in this always appropriate polka dotted top!
MINTY FRESH
Spring ahead in pastels! Some people jump right into bold pops of color while others, take a little more time. For those ladies, we suggest muted tones - like pastels. It reads as fresh and new as the season, but keeps you in your comfort zone. And, why wear some boring old tee shirt when we've got this featherweight rib tee that is uber soft!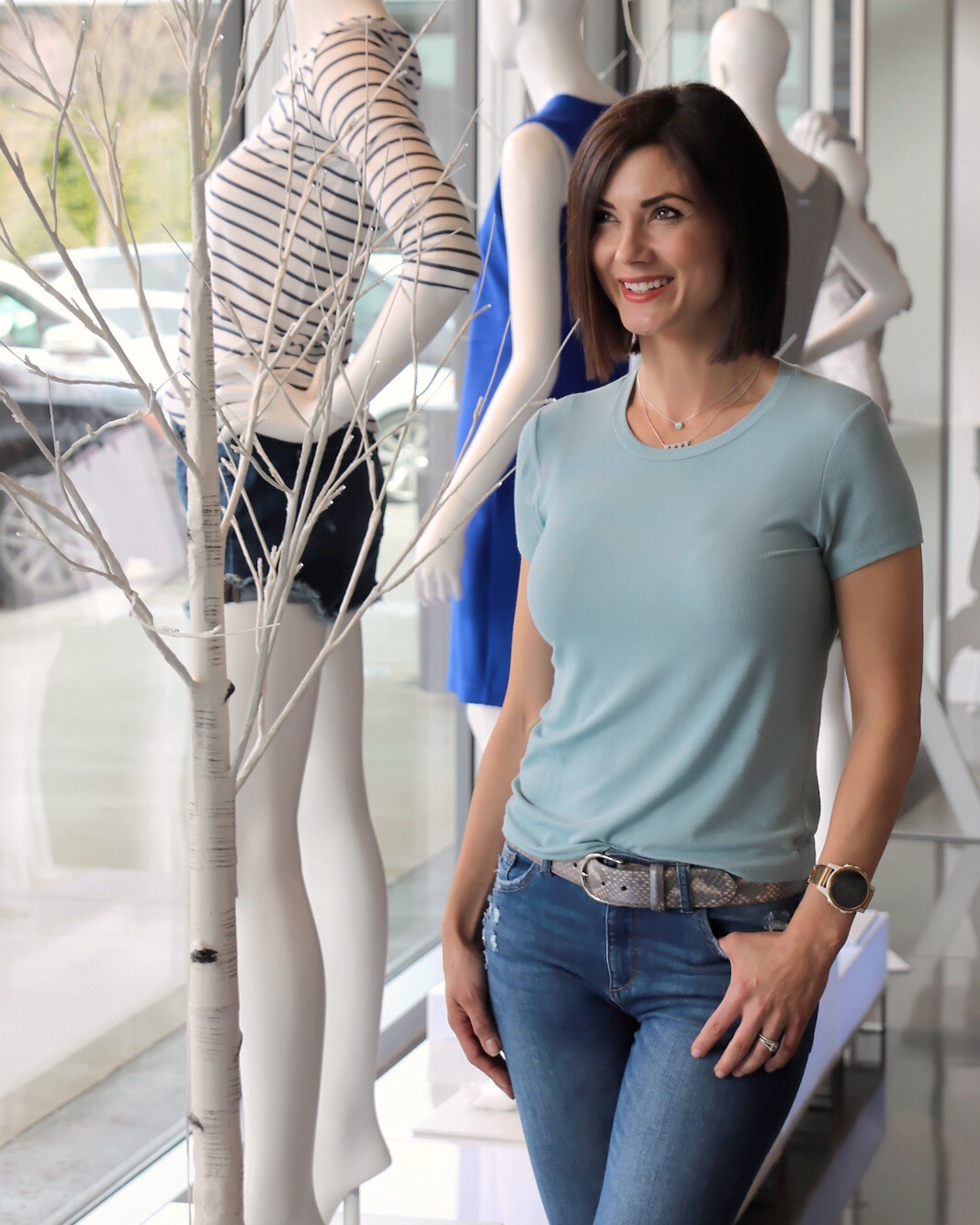 CALLING ALL CAMO LOVERS
Whether you're trying to hide out in the arctic, or just aiming to look super chill here in our landlocked state, the spring version of the Blanc Noir camo anorak is your secret weapon. With all the design details you can handle - like thumb holes, pockets, double zip, drawstring waist, adjustable sleeve straps, pockets-o-plenty, oh and did we mention it's water resistant?
DRESSED TO A TEE
Does it really count as a dress when it's really just an extra long t-shirt? Sure! Cute, flirty - so not taking this whole dressing up thing seriously, the soft pastel green Tee dress has a nice relaxed fit and a vneck. Layer up so it's more stylized and match that to your sneakers for a cohesive and fashionable weekend look!